Welcome to the Guardian Angel Pet Sitting website! We hope you enjoy your stay. Our job is to love, protect and care for animals day in and day out. We do what we love most! We'd be happy to take your pet under our wings and care for it as if it were our own.
Browse around to find out more about us and our business. Chat with other clients in the chatroom below! Don't hesitate to contact us if you need more information or if you have any questions.
UPDATE: Serena had her baby! She's getting a little too busy to do pet sitting, so most jobs are being taken over by Deb. Deb has been in the animal medical industry for over 10 years! She loves animals and enjoys pet sitting. She currently works at an animal hospital as the Office Manager. Welcome her to the team!
Know Serena? If you'd like to see her new baby, Leyna Nicole, visit her website.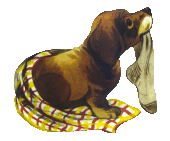 Why choose a petsitter over a kennel?
Pets are more comfortable in their own environment
Your home is cared for as well
Your pet receives more "one on one" care and attention than a kennel would give
No need to worry about your pet or his/her health and safety
Not only will we take care of your pets, but your home as well! We will bring in the mail and papers, water your plants and other chores free of charge! Also included in your visit is the opening and closing of blinds/drapes and turning lights on and off to deter burglars.
Your dog can still enjoy their routine.
Walking habits
Feeding routine
Play time
Favorite toys and beds
Treats
We promise to make sure your pet is as comfortable as possible while you're away. We'll do our best to keep him/her from missing you too much! We use a cell phone as our business line so we can be reached 24/7 no matter where we are. If you're worried about your pet, just give us a call so we can assure you that everything is okay.